Product
Filter
/
Filter
Reset Filter
LADY KEV01 DENIM LEGGINGS DIRTYBLUE WATERPROOF MC BYXA WP12
Shipping Class : DELIVERY : 6.99 GBP
Add To Cart

DHL Home Delivery

Return within 30 days

Lowest price guarantee

Made to measure clothing
LEGGINGS (WITH CE LEVEL-2 knee pads)
with full-
coverage DuPont ™ Kevlar® fiber
that protects.
Stylish kevlar leggings in stretch denim fabric for women. Safe and secure in traffic with trousers with maximum protection. End all puffy clothes without going in comfortable tight-fitting leggings. Fits so well on the body due to its 4-way stretch. Can be the most comfortable motorcycle pants to wear when riding a motorcycle. No longer need to be afraid of the rain but take part in the summer's hottest pants now also as waterproof. The water-resistant denim with Kevlar offers a perfect blend of innovation, design and performance.
The waterproof treatment is enough for about 10-15 washes and has a long-lasting effect. Note that the use of detergent can reduce the water protection as there is a risk that it will dissolve the treatment done to make the pants waterproof.
-
Completely covered with 100% Dupont Kevlar Extra Strength
- Waterproof treated to repel water.
- The waist is elastic and can be adjusted with an elastic strip inside the waist of the trousers for the best fit.
- High waist
- Good stretch and follows the contours of the body
- Mesh pockets for protection
- Adjustable CE protection with velcro
- Level-2 CE knee pads
- CE approved hip protection
- Pockets for storage
- Heavy Duty Resistant most stretch for perfect fit
| | | |
| --- | --- | --- |
| Size | Waist / Waist - W (cm) | Stuss / Seat - C (cm) |
| XXS | 56 cm / 22 " | 88 cm |
| XS | 61 cm / 24 " | 92 cm |
| S | 66 cm / 26 " | 96 cm |
| M | 71 cm / 28 " | 100 cm |
| L | 76 cm / 30 " | 104 cm |
| XL | 81 cm / 32 " | 106 cm |
| 2XL | 86 cm / 34 " | 110 cm |
| 3XL | 91 cm / 36 " | 114 cm |
| 4XL | 96 cm / 38 " | 118 cm |
| 5XL | 101 cm / 40 " | 122 cm |
| 6XL | 106 cm / 42 " | 126 cm |
| 7XL | 111 cm / 44 " | 130 cm |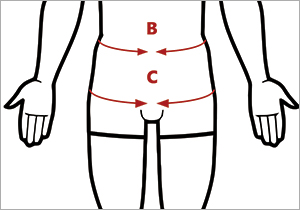 BUY MATCHING PRODUCTS - GET THE FULL LOOK