Product
Filter
/
Filter
Reset Filter
RIDER CLASSIC JEANS ORIGINAL BLUE MC JEANS
Shipping Class : DELIVERY : 6.99 GBP
Add To Cart

DHL Home Delivery

Return within 30 days

Lowest price guarantee

Made to measure clothing
RIDER CLASSIC JEANS ORIGINAL BLUE MC JEANS
The jeans are reinforced with Dupont ™ Kevlar® fibers in strategically exposed places.
A height among motorcyclists who want to wear the most beautiful. Fits perfectly with all textile jackets such as leather.
Here you get a pair of trousers that is completely covered with reinforced material that protects.
Internal knee protection pocket with removable CE protection
Tailor-made YKK zippers, buttons.
Pre-bent leg constructions for the best fit
Twilve denim cotton 96%
Detachable / Adjustable CE protection in the knee
Doublestitch strength - Double stitch reinforcements on the most moving parts of the trousers
Wash at 30 degrees (Can shrink 5% on first wash)
Belt space
Note that this product is only offered as made to measure and can therefore not be ordered as a regular size. The price applies to body size up to 3XL, for larger body size there is an additional cost of 150 SEK per exceeded size. The additional cost is calculated by an administrator from sharkspeed after receiving your body measurements. Delivery time is between 12 - 16 working days depending on seasonal load.
| | | |
| --- | --- | --- |
| Size | Waist / Waist - W (cm) | Stuss / Seat - C (cm) |
| XXS | 66.5-71.5 | 83-87 |
| XS | 71.5-76.5 | 87-91 |
| S | 76.5-81.5 | 91-95 |
| M | 81.5-86.5 | 95-99 |
| L | 86.5-91.5 | 99-103 |
| XL | 91.5-96.5 | 103-107 |
| 2XL | 96.5-101.5 | 107-111 |
| 3XL | 101.5-106.5 | 111-115 |
| 4XL | 106.5-111 | 115-119 |
| 5XL | 111.5-116.5 | 119-123 |
| 6XL | 116.5-121.5 | 123-127 |
| 7XL | 121.5-126.5 | 127-131 |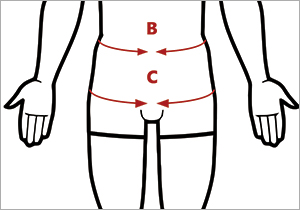 BUY MATCHING PRODUCTS - GET THE FULL LOOK