Product
Filter
/
Filter
Reset Filter
KEV01 PREMIUM BLAKE VINTAGE BROWN MEKEVLAREN LEATHER JACKET
Shipping Class : DELIVERY : 6.99 GBP
Add To Cart

DHL Home Delivery

Return within 30 days

Lowest price guarantee

Made to measure clothing
PREMIUM QUALITY PRODUCT.
The jacket is equipped with Dupont Kevlar (Chest / Sides) and CE LEVEL-2 protection and not only that, the whole jacket has a breathable membrane that makes the jacket 100% Waterproof with breathing function.
Premium series means that the product has been equipped with TOP OF THE LINE materials and accessories. Here an extra treated leather is used which makes it extra soft with maximum comfort, the leather has a suede-like feeling. Soft and comfortable leather that gives the jacket maximum comfort with increased mobility. They have also changed the standard and put premium fabric inside the jacket for a totally softer feeling. The product has also been equipped with LEVEL 2 CE protection which is soft and adapts to the body shape.
- Softer leather with special treatment
- LEVEL 2 CE protection EN1621-1: 2012 and EN1621-2: 2014
- Premium inner lining comfort Pro
- Matte finish zippers
- Waterproof Reissa Membrane Breathable
Grade 2 approved CE protection that can be applied to jackets and trousers. Elbow and shoulder pads approved according to EN1621-1: 2012 and back pads and knee pads according to EN1621-2: 2014. This is among the safest things you can wear.
The softness of the protection makes the fit perfect and adapts to the body's shapes without feeling uncomfortable.
Viscoelastic construction
Shapes to the body
YKK zipper closure at the front together with buttoning at the neck.
Outside and inside pockets for storage.
Removable CE-approved protection.
Extra reinforced on exposed parts.
Velcro adjustment on sleeves.
Inner lining
Padded shoulders
Note that this product is also offered as tailor-made and can therefore not be ordered as a regular size. The price applies to body size up to 3XL, for larger body size there is an additional cost of 150 SEK per exceeded size. The additional cost is calculated by an administrator from sharkspeed after receiving your body measurements. Delivery time is between 12 - 16 working days depending on seasonal load.
| | | |
| --- | --- | --- |
| Size | Chest / Chest (cm) | Stomach / Stomach (cm) |
| XXS | 91-95 | 83-87 |
| XS | 95-99 | 87-91 |
| S | 99-103 | 91-95 |
| M | 103-107 | 95-99 |
| L | 107-111 | 99-103 |
| XL | 111-115 | 103-107 |
| 2XL | 115-119 | 107-111 |
| 3XL | 119-123 | 111-115 |
| 4XL | 123-127 | 115-119 |
| 5XL | 127-131 | 119-123 |
| 6XL | 131-135 | 123-127 |
| 7XL | 135-139 | 127-131 |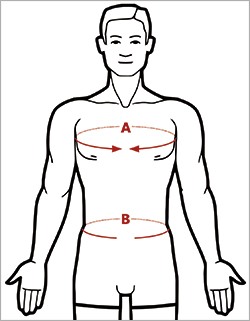 BUY MATCHING PRODUCTS - GET THE FULL LOOK